At the moment we are part of a very special company of people being hosted by Battle Abbey School in the grounds of the ruins of the glorious Battle Abbey in Battle, East Sussex. For those who aren't aware, this is the site of the Battle of Hastings in 1066 where England lost to the French Norman army and our culture and language changed.
Our project is called The Giufa Project, the roots of which are in The Complete Freedom of Truth programme and our work with the organisation Arrischianti in Sarteano, Italy in April 2017.
Laura Fatini, writer and theatre director, had been exploring the character and stories of Giufa for over 4 years and the ideas came together whilst we were working as part of one of the TCFT programmes funded by Erasmus, Arts Council England amongst others. Music has been created by Sara Ross, composer from Lisbon, Portugal and a series of workshops, stories, performances have led to our ten days together.
Glyndebourne is a long established opera company set in the beautiful countryside around Lewes in Sussex, South England. Glyndebourne has a history of high quality participation and education work and two out of every three years the company commission a main stage opera for Glyndebourne Youth Opera and a Community Opera Commission as well as smaller scale works.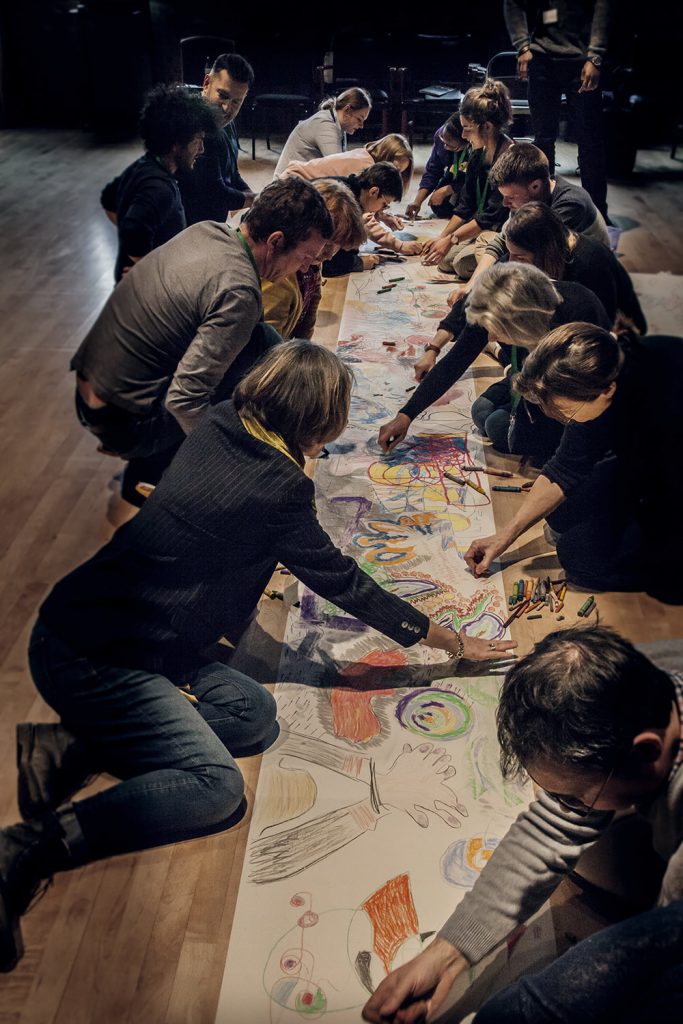 First drawings at Glyndebourne April 2018
Last year a new opera called Belongings was commissioned and produced by Glyndebourne, with music by the composer Lewis Murphy, a young artist in residence with Glyndebourne. The libretto was written by Laura Attridge.
The opera explored the experiences of young people forced by war to flee their homes. At that time, in 2016, TCFT began looking at our concerns for young refugees and migrants and Lewis and Laura both joined the TCFT programme at Bournemouth University in Dorset and in Sarteano, Italy.
A partnership began with Glyndebourne, Opera Circus, Arrischianti in Sarteano, Urban Playground Team, Project Art Works, Crisis Classroom, a charity built to provide education and learning for refugees as well as their hosts. and with a number of artists with great facilitation experience, those who had a great deal of TCFT experience and those who were new to the process. These include Lucy Bradley, Annis Joslin, Darren Abrahams, Omar Shahryar, Judith Coleman, Alister O'Loughlin, Laura Fatini, Cedoux Kadima, Tim Corrigan and Tom, Rosie Russell, Susan Bisatt and Robert Golden. The producing team is led by Chris Stones from Glyndebourne, Tina Ellen Lee from Opera Circus, Sally Lampitt from Battle Festival with support from Amanda Downes, Rory Newbery and many others. Thanks to Sosi, Dave, Amanda and James for the great food from https://www.hohcharity.co.uk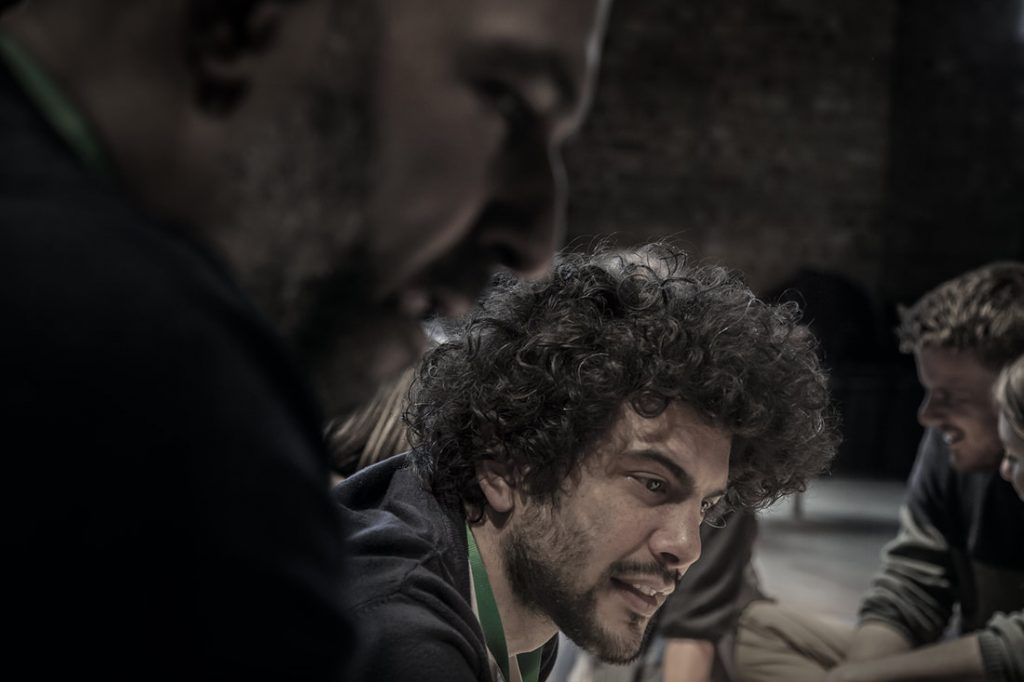 With the support of Battle Festival and the town, the school and Glyndebourne's vision we are now in the school and town creating new artistic work, learning about each other's cultures and lives and living in an environment of inclusion, equality and inspiration.
Other people keep joining us, youth leaders who have been with TCFT for many years and now help deliver these projects and their own, other artists and facilitators, our mentors and friends.
On Saturday 25th, Urban Playground Team, led by Alister O'Loughlin, will be sharing some new work in progress as part of the Journey's Dance Festival at 1pm and 2pm on Abbey Green in the middle of Battle. http://18hours.org.uk/journeys-2018/
On the 29th and 30th there are summer workshops for 9 – 13 year olds who will participate in the sharing of the work on the 30th.

https://battlefestival.co.uk/events/2018/the-giufa-project-summer-workshops-for-9-13-year-olds
On Thursday 30th August at around 5pm we will be sharing the work we have created over the 10 days we have been together in and around the town of Battle and in the Battle Abbey grounds themselves. More information on this in the next few days.
On 20th October The Giufa Project will be shared again at Battle Abbey from 18.00 – 20.00.
A sharing of some of the work and experiences will also be held in Bridport, West Dorset on the 24th, 25th and 26th October, to be confirmed.
The Giufa/TCFT project will continue in 2019 so do keep an eye on any of our web sites and social media pages.
All photographs and film on this project is by Robert Golden