TCFT thinking Dorset – Pressure/Oppression February 2018
The last two years can only be described as exquisite pain, that place you strive for when creating art that drowns you in a pit of despair and then makes you realise that you have understood something intangible, it might be small, but your life changes.
We have worked towards a new way of delivering work, building different kinds of partnerships and raising funding in new ways. We have sought opportunities in Europe as our government drives us away from the natural tendency of artists to ignore borders, both political and intellectual. We hope that all this struggle will produce a sustainable company that has a much more horizontal way of working with a larger ensemble taking part and feeding into the way we adapt and change our processes. We started in 1991 and Opera Circus has had many phases of its life, changes made with so much inspiration from artists and others with whom we work and surviving National and Global challenges.
TCFT, an Opera Circus long term project, has taught everyone a huge amount and its reach has affected our performance work as well as our relationships. Thank you to everyone who has been part of the journey to date and to all those who have committed themselves to our future. (See more information below)
We are working on several major programmes including co-partnering with Teatro L'Albero in Matera and Senza Spine in Bologna through the Fondazione of Matera 2019, Italy's City of Culture next year. We are working together to create a new collaborative community opera, called The Silent City. Get Close to Opera, an Erasmus+ research project run by Matera Hub looking at informal education in opera with Belgium, Greece, Spain, Italy and the UK. The Giufa Project with Glyndebourne Education, Battle Festival, Arrischianti, Italy, Setubal Festival of Music, Portugal and Crisis Classroom, using the TCFT process to look at new ways of working with the arts and young people, in particular the exploration of inclusion and migration.
We are part of the working pilot process with Leeds and Bournemouth University called Changing the Story. More information on this below.
The Artistic Director, Tina Ellen Lee, has been working with some of the advocates for the greater acknowledgement of Culture and the Arts in Europe, in particular Culture Action Europe, in Rome as part of Belonging and Becoming December 2017, in February 2018 at the Guildhall School of Music and Drama on The Artist as Citizen and in Brussels in April 2018 looking at Social Inclusion in the EU with Voices of Culture. In September 2017 the Discussion Document will be delivered and shared widely…it will be on this web page.
Making progress through dialogue is so much slower than dictatorship but we have noticed that changes are being made from our first meeting with Salzburg Global Seminars in 2014, "Building Peace Through the Arts" to the workshop led by Alain Ruche with the European External Services in Brussels.
There is news about Naciketa, the beautiful new opera with music by Nigel Osborne and poet/writer Ariel Dorfman. We are waiting for a final confirmation before we launch the public journey to performances in 2020. More soon – some information on the Naciketa page on this web site.
There is a new web site on its way, but until we have the thinking and funding in place, we will be using this blog to share our progress this year.
Opera Circus has been in the privileged position of having the photographer and film maker Robert Golden record most of its work since 1991. An archive of beautiful imagery and storytelling that has partly made us who we are today. Robert has also been at the core of the artist/facilitators team, teaching film making, photography and the art of story telling through images. He has helped to deepen the political thinking in TCFT and become a mentor to numbers of young artists. If you scroll down on this blog page you will find our Vimeo Gallery which contains most of the films made about the work of the company. RobertGoldenPictures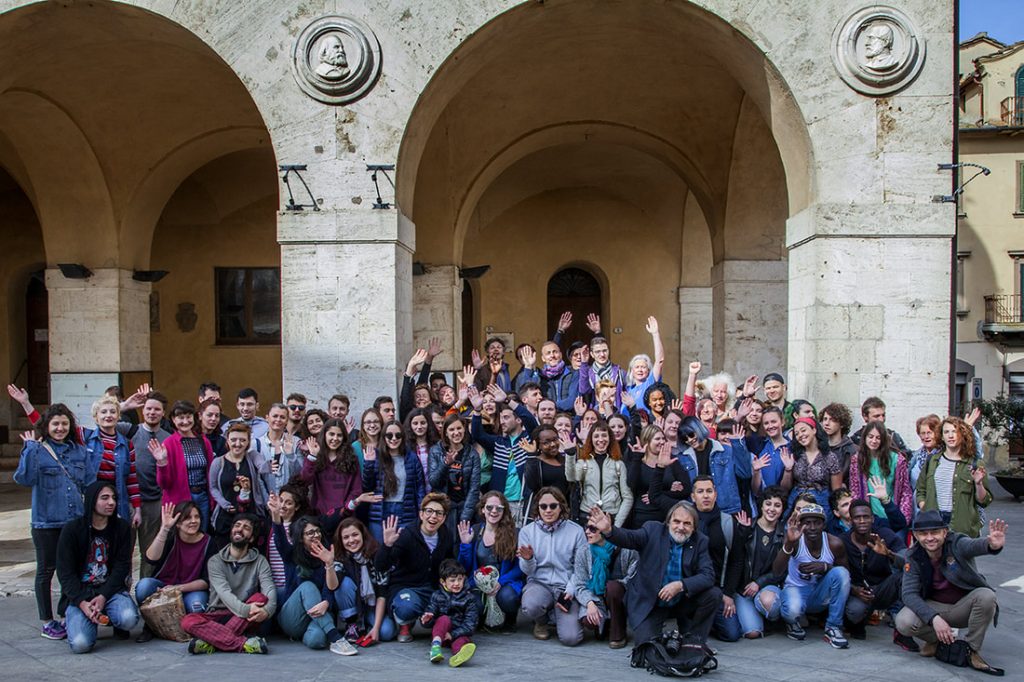 TCFT in Sarteano April 2017
TCFT, aka The Complete Freedom of Truth is a project originated by Opera Circus. The work grew out of Opera Circus' collaboration with the British composer Nigel Osborne which started in 2014, originally in Bosnia and Herzegovina, Croatia and Serbia but also in the town of Bridport, West Dorset where Opera Circus is based. It is one of many projects run by Opera Circus, but we have realised TCFT has grown to be so successful that many people think it is an organisation in itself, maybe it will be one day.
Thanks to the organisations who have contributed in the last couple of years to the TCFT 2015 – 2017 process, VBC, Romania, Teater Mimart, Serbia, Youth Council Srebrenica, Bosnia, Diverse City, Dorset, UK, Arts Development Company, Dorset, UK, the Comune di Sarteano, Italy, Setubal Music Festival Portugal, University of Bournemouth UK, Urban Playground Team, UK, SLYNCS, Blackburn UK, Besso and Company, Georgia and Education:IPOW, University of Manchester UK. Partnerships are always a challenge and we learn as we progress but without everyone's support and input, TCFT would not be the process it is today.
The UK government may have chosen to leave the European Union but I don't think British Artists will be. We are very lucky to have European partners who believe in movement and exchange of artistry and who don't recognise political and national borders. Art thrives across borders and the richness of cultural exchange and the understanding it brings of how much we all have to share, creates the world we want to live and work in.
February 12 – 16. We ran a week long TCFT in Bridport, West Dorset. We try and do this every year either in the February and/or October half terms inviting young participants from across Dorset including Bournemouth and from some of our partner organisations, Young People Insight in Croydon, SLYNCS in Blackburn, Activate with Remix and Face Forward from The Arts Development Company. With thanks to Bridport Arts Centre, Bridport Town Council , West Dorset District Council , Awards for All, Alice Ellen Cooper Dean Charitable Foundation and the people of Bridport who so generously helped to make this week such a success including Evie Vergano, organic local chef and caterer.
The artists who worked with us included Alex Gichohi, Louise Katerega, Louisa Adjoa Parker, Ricky Romain, Robert Golden, Rachael Veazey, Rosie Russell, ExileArts, River, Susan Bisatt, Shaniqua Benjamin and with thanks to Francesco Pipparelli and Rory Newbery.
We were happy to welcome Albert Heta Artist and Director of Stacion Cultural Centre in Pristina, Kosovo celebrating the start of Changing the Story, a Leeds and Bournemouth University led Arts and Humanities Research Council Project. Opera Circus hopes to be able to participate in this 4 year, 5 country project with the work in Kosovo. Thanks to Dr Stephanie Schwandner-Sievers, Principal Academic at Bournemouth University, Anthropology and Sociology and part of the Seldom Heard Voices Project at BU.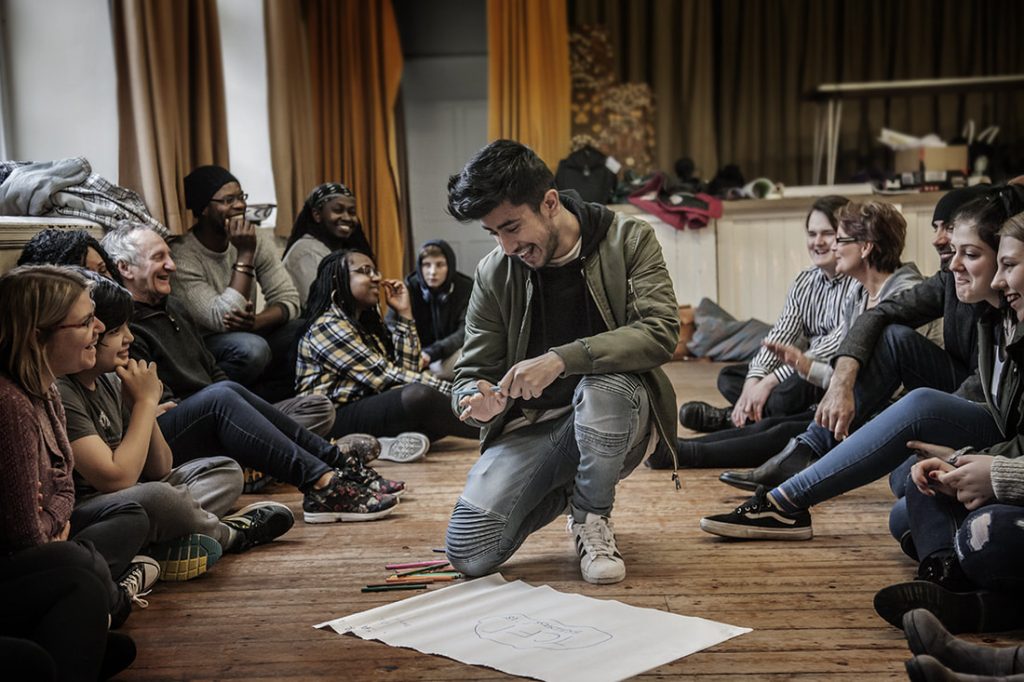 Where do our names come from? TCFT Bridport
BRUSSELS Visit your MEP's February 19 - 21
Rosie Russell and Tina Ellen Lee travelled with 12 young leaders from Dorset and Croydon to visit Clare Moody and Julie Ward MEP's. It was a very packed 3 days with visits to the European Parliament, Culture Action Europe, Bozart and Pianofabriek. Darren Abrahams presented Crisis Classroom in the European Parliament itself, with thanks to Claire and Julie's staff for organising this so well and on the World Day of Social Justice, we celebrated at Pianofabriek with some Crisis Classroom training and Spoken Word from Shaniqua Benjamin. Thanks to Philip and his team for their generosity.
More news about the work in April and May shortly. In the meantime we are starting a crowdfunding campaign to raise £20,000 plus in order to help young people from Dorset take part in some of the TCFT activities in 2018 including visits to Serbia, Italy and the Glyndebourne/ Giufa/ TCFT/ Battle Festival project in August 2018.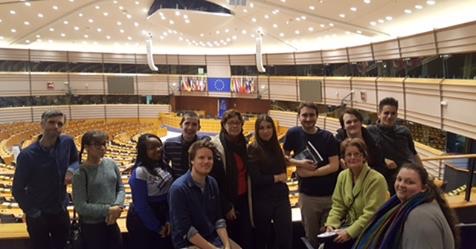 Visiting the European Parliament February 2018 – Photograph thanks to Kay Wilcox
Please do get in touch if you would like to donate:
admin@operacircus.co.uk or 
0044 (0)1308420751