Sarteano's beautiful theatre
96% of artists who took part in the Referendum to leave or remain as part of the European Union, voted to stay.
Europe is our culture, our history, our arts and our future. It is a fact that the EU needs change. EU bureaucracy, corruption, values and an insistence that the main purpose of the 28 (still) countries working together is for economic purposes.
Romano Prodi who was the 10th President of the European Commission (1999-2004) was reported to have said that if he had the time again he would have based the values of the European Union on that of Culture and not Economics.
I imagine we would be in a very different place now if that had been the case.
In the recent paper produced by Jean Claude-Junkers, the current President of the European Commission, he describes
5 alternatives for the future of the EU. In the entire paper the word culture is not used once.
So we regress as a society and those of us who have advocated for years for the recognition that the arts and culture is
of central importance for the education, health, well being, peace, creativity and progress of our communities
and society, seem to be back at square one, or maybe not.
Opera Circus is now working more than ever in Europe. 26 years on from the start of this small performing arts organisation, we now have partnerships in 8 European countries and are exploring further conversations with three new arts organisations in the Middle East, Egypt, Palestine and possibly Tunisia or Jordan.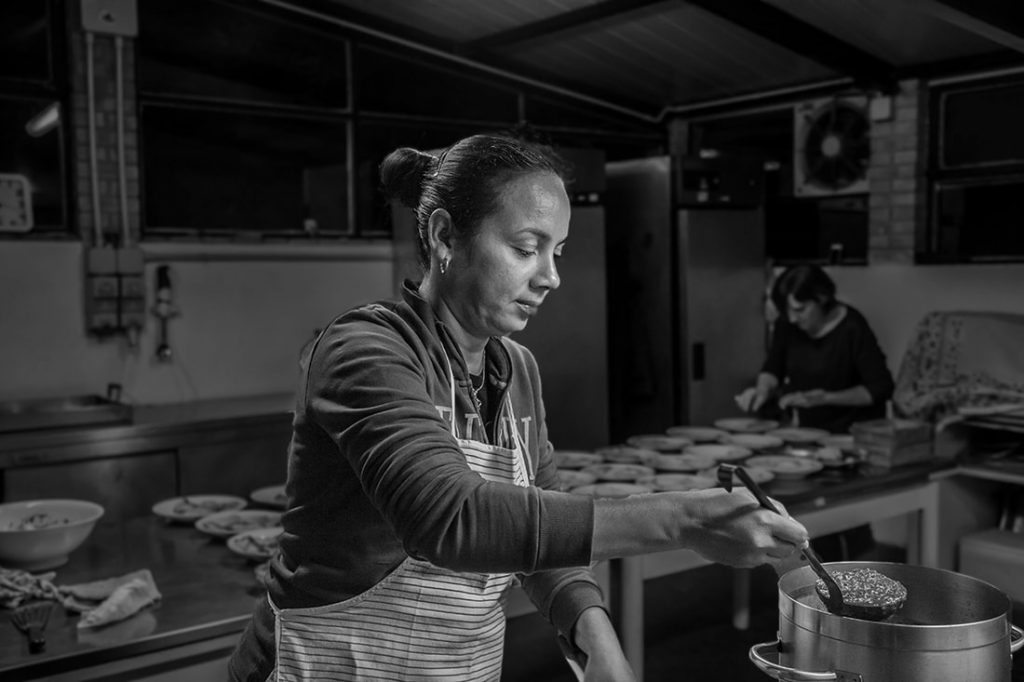 Preparing supper for the TCFT group in Montechiello, hosted by Teatro Povero. April 2017
When we were a much more active touring company we performed globally from Peru to Thailand, Canada to Georgia and across wider Europe. As a result we grew as artists and people, were challenged, educated and inspired.
Now through our youth process The Complete Freedom of Truth we aim to offer some of these experiences and hopefully inspiration and learning to a broad cross section of young people with our partnerships and beyond.
If you didn't see the documentary about the development of the work from 2008 in Srebrenica, Bosnia and Herzegovina to today and into the future, click on the link here.
The road to the small hill town of Montelaterone where we were invited to see an exhibition and meeting the local people and migrant community. April 2017
TCFT, Opera Circus and the future:
Since the end of the last Erasmus + youth residency which was in Sarteano, Italy in 2017, a number of smaller initiatives by young people have been delivered in Srebrenica and Croydon London. There are plans for other small programmes in Serbia and Portugal as well as Italy.
We are running our, now annual, TCFT week in Bridport, Dorset, UK and looking forward to welcoming our partner youth organisations, SLYNCS from Blackburn, Young People Insight from Croydon, and we hope You-press from London. This is from 12 – 17 February and do get in touch if you want to know more or be involved. Thank you to Awards for All, West Dorset District Council, Bridport Arts Centre, Bridport Town Council and others for making this possible.
Remix performing with TCFT Bridport 2016 at Bridport Arts Centre 2016
We are at the moment involved in two European programmes of work with partners in Matera, in the region of Bassilicata, Italy.
The first is an Erasmus + project called Get Close to Opera. It involves partners in Spain, Greece, Italy, Belgium and us in the UK. It is an exploration to see if it is possible to use the art forms in opera to explore ideas of cultural integration with refugees. We will be guided very closely by RESEO and the Network of Migrant Women in Brussels. This is led by the highly efficient cultural NGO Matera Hub in Italy.
The other Matera project is a beautiful new community opera, working with the young theatre company Teatro L'Albero in Matera and delivering a new work across two years. .
The fascinating orchestra Senza Spine from Bologna and L'Orange Platine from Angers in France will be part of the creative team. We will know for certain whether we have the go ahead in December and if so will be part of Matera City of Culture 2019.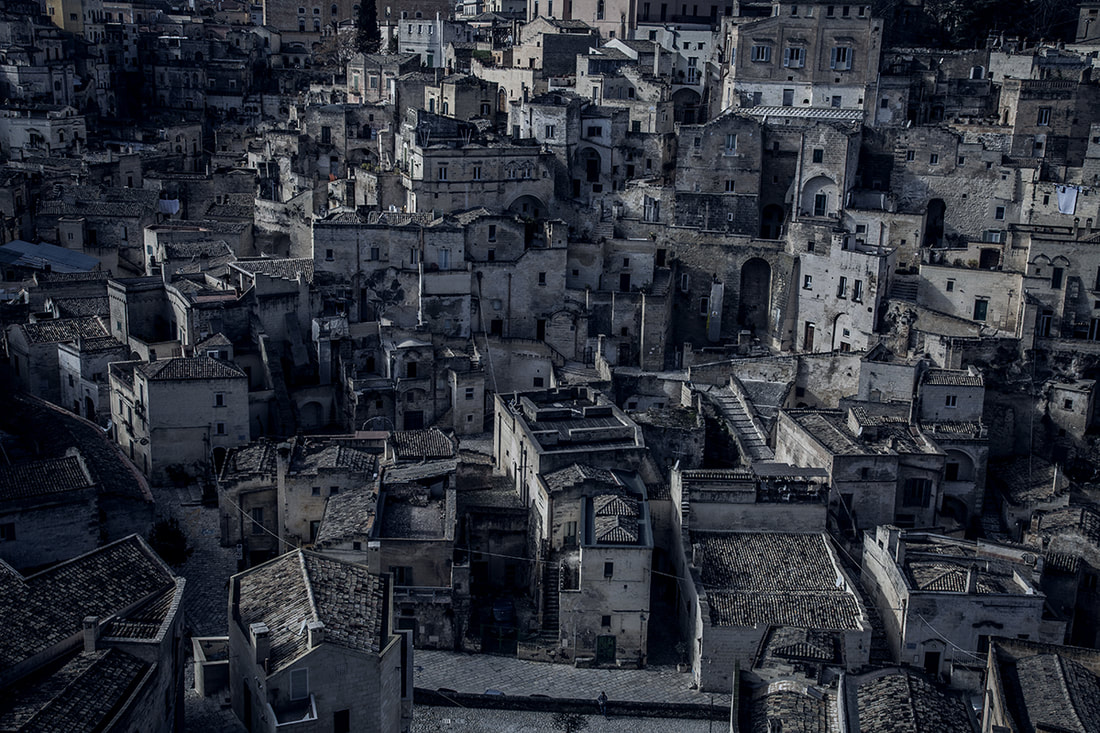 I Sassi, an ancient part of Matera, Bassilicata.
Our relationship with the region of Valdichiana continues with our colleagues and friends in the small historic town of Sarteano in the region of Tuscany. This is led by Laura Fatini and her highly skilled young team through Arrischianti.
They hope to involve two other towns, Montechiello and Montelaterone. We have had successful conversations with the Fondazione Monte dei Paschi di Siena to develop this partnership and the Fondazione's involvement in more than just funding. Partnerships these days have to also be about sharing skills, networks and opportunities.
We are also in discussion with Glyndebourne about a TCFT residency in July 2018 at Lewes, near Brighton involving artists and young people from Sarteano as well as established partners Setubal Music Festival and their inclusive chamber orchestra. This will be a slightly different TCFT experience as the process will involve local young people who live in and around Brighton and Lewes, young migrants, artists, partners and facilitators from the area. We are meeting from 10 – 13 November and will be able to see a performance of Belongings, the new youth opera at Glyndebourne, music by Lewes Murphy and libretto by Laura Attridge. http://www.glyndebourne.com/tickets-and-whats-on/events/2017/belongings/
The two weeks residency in July 2018 will structured around the story of Giufá.
"Giufà is a character who appears in traditional tales from cultures across Europe and the Middle East (from Turkey to Sicily, from Egypt to Portugal). His story is interpreted in many and various ways as people have travelled through history. Giufà's stories have contributed to the cultural identity of each country in which he has travelled.
Giufa's stories, are simple as fairy tales and equally instructive. They can be a useful tool for working on our human concerns such as identity, difference, self-knowledge, and freedom. We use this art of storytelling as a way to communicate with each other." – Laura Fatini writer and theatre director Sarteano.
Laura has written the text to this new music theatre piece and Sara Ross, now working at the Teatro Sāo Carlos, the Lisbon Opera House, is writing the music.
During 2018 there will be meetings and work in progress in Setubal, Sarteano and Glyndebourne. More information will be available later in the year both on this and the TCFT web site.