Improvised dancing, Dylan's Bar, Bournemouth University, the last night August 2016 – Photo Robert Golden
We haven't spent as much time as we should have done on this web site and apologise for the lack of updated information but………
Opera Circus is about to transform itself.
The good reason is that we have been so successful in our work over the last 5 years that we now have more work than we can handle for the next 5.
We have produced chamber opera, music theatre, children's, youth and community projects for over 26 years in the UK, across Europe and from Peru to Thailand, Georgia to the Basque country.
We have designed and led residencies for children in state orphanages 1 and 2, in Vilnius, Nigel Osborne's Balkan Summer Music Camps in Croatia and Bosnia and Herzegovina and in India for children with trauma and disabilities.
There has been a slow and positive development of work with young people through arts and cultural activity which began in Srebrenica, Bosnia in 2008.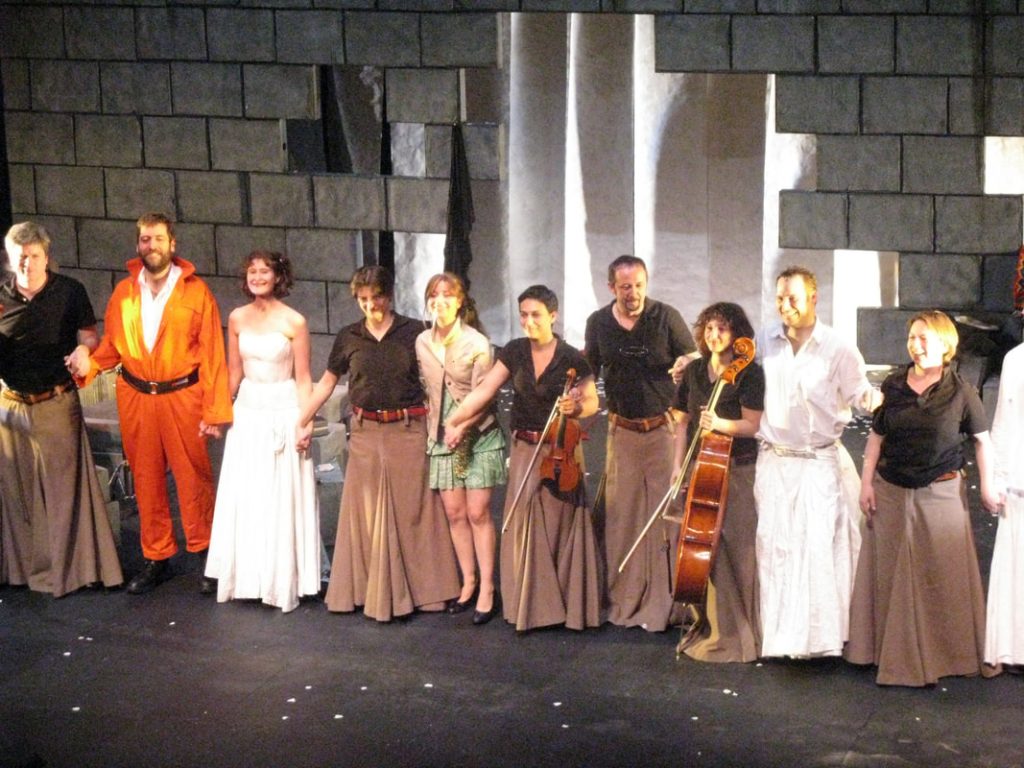 Opera Circus opening night at the National Theatre in Mostar of Nigel Osborne's opera Differences in Demolition 2017 Libretto Goran Simic and Director Lenka Udovicki
This resulted in the birth of TCFT (The Complete Freedom of Truth an international youth arts and cultural long term process and network.) More information on this web site and please see the beautiful films directed by Robert Golden, particularly for 2017.
We have many partners in many European countries, a network of hundreds of young people and have led 14 day residencies in Srebrenica, BiH, Sarteano, Italy and Bournemouth University, UK.
We have organised artist, youth and schools exchanges, built new networks, created new artworks and been introduced to new artists, life changes and friendships.
As a result of all this Opera Circus has to evolve and transform in the way we run, in how we approach our work and in some cases, even where we work and whom we work with.
We are sharing what we do more widely. Our very mixed ensemble is distributing the work of the funding applications, even an Erasmus +. Smaller versions of TCFT are being led by youth leaders who have grown into the process we have developed together over the last few years. New European partnership projects have evolved and new performances are developing.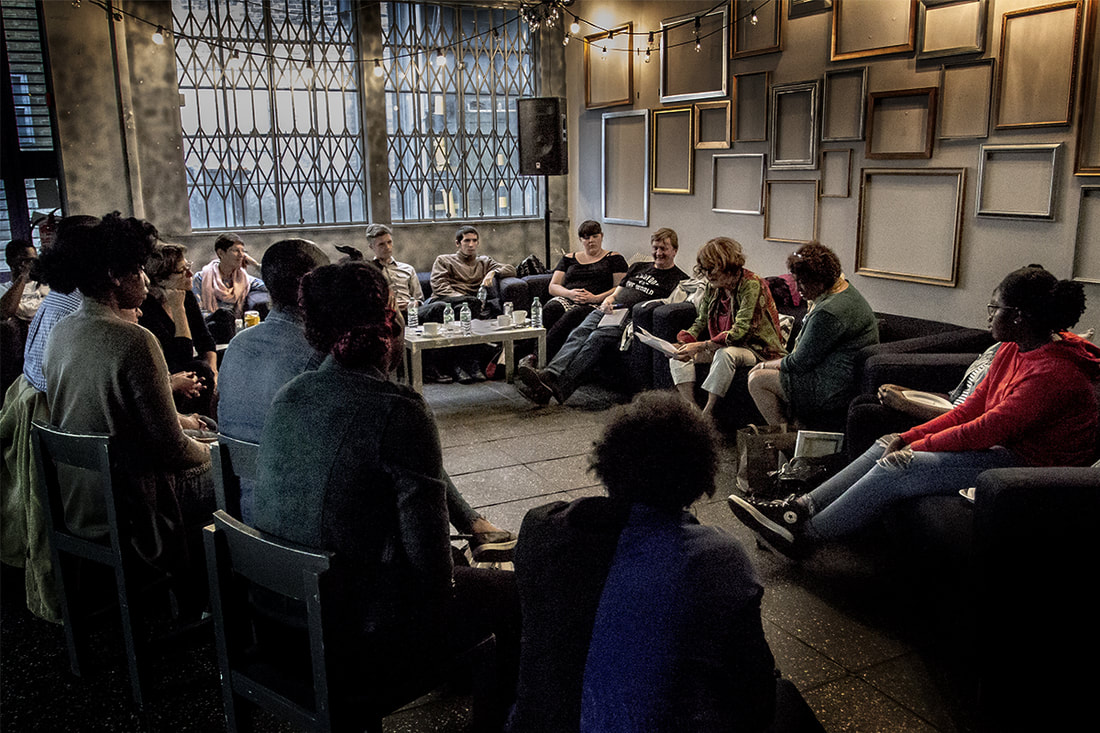 Geraldine Sharpe Newton speaking at TCFT Croydon August 2017 run by Shaniqua Benjamin and Naomi Gabriel for Young People Insight 
As a result over the next two years we are aiming to design a different, more transparent and fluid way of working.
A cloud based production office, creating greater transparency and for a team or ensemble to work together digitally from literally anywhere. Our database will finally be updated and include all our existing networks with space to encourage a greater spread of connections and in particular a wider reach for fund raising and income streams from a more comprehensive section of our global change making society.
Srebrenica and clouds – Photo Robert Golden
We are partnering more and for 2021 having a vision being part of two creative arts and cultural centres, one in Brighton UK and the other in the Valdichiana/Val d'Orcia region of Italy.
We are interested in different approaches to running projects and offering work opportunities to some of the talented young people who have worked with us for a number of years . We need to value more the wisdom and skills available to us, embracing the intense artistic grace and gifts found deep in the experience and talents of many of the invaluable artists we work with.
A number of projects are under discussion including a second TCFT residency in Sarteano, the first took place this April 2017. See the film.
A new music theatre project, whose work in progress title is The Giufa Project, is under discussion with major UK partners for the summer of 2018. This new work is written by the Italian theatre director and writer, Laura Fatini with music by Portuguese composer, Sara Ross. The production will be accompanied by a participation project involving informal education in schools, with young artists and with migrants both in Italy and England. Other partners who are part of this discussion at the moment are Crisis Classroom, Brighton, the Fondazione Monte dei Paschi di Siena, Fondazione Cantiere Internazionale d'Arte in Montepulciano, Glyndebourne and three small Comuni in the region, Montechiello, Montelaterone and, of course, Sarteano along with Suzie's Farm, an ecological and vibrant learning, growing and social eating space.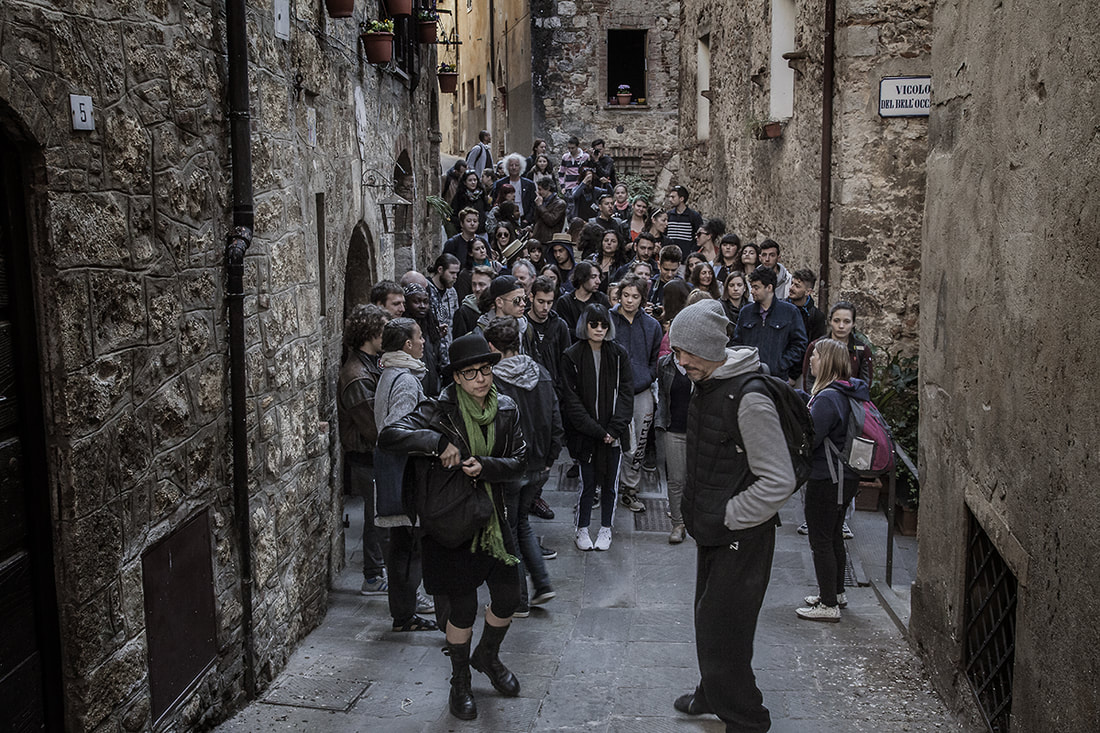 The final sharing of work Sarteano April 2017 – Photo Robert Golden with Laura Fatini, Arischianti, and Alister O'Loughlin, Urban Playground Team
We continue to develop North/South England exchanges between Blackburn's youth organisation SLYNCS and Bridport's young people. There will be a visit to Blackburn during the October 2017 half term and a mini TCFT during February 2018 half term in Bridport, involving Blackburn. We hope, the Young People Insight project in Croydon will join us, founded and led by one of the senior TCFT youth leaders, Shaniqua Benjamin.
Following on from a meeting with artist Vania Cauzillo at the Opera Europa conference in Bucharest, Opera Circus is now partnering on two projects in Matera, Basilicata, Italy.
Both are linked to the European City of Culture for 2019.
One project led by Matera Hub includes partners in Greece, Belgium, Italy, UK and Spain and is exploring the use of informal education opportunities through opera with migrants in Italy and across Europe.
The other project is led by Teatro L'Albero in Bari and Matera, creating a new community opera called The Silent City.
More on this soon.
We are looking forward in the distant future to working with the beautiful city of Timisoara in 2021 as part of their European City of Culture programme, which has now been confirmed.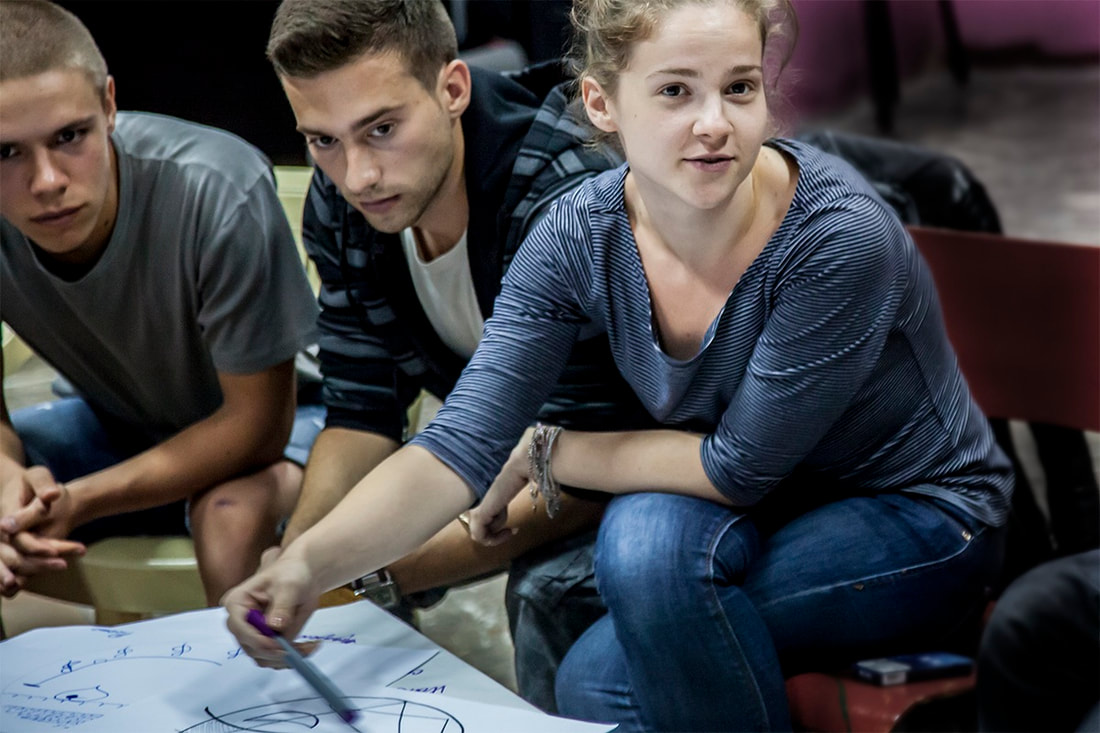 SLYNCS youth organisation from Blackburn visiting Bridport Youth Centre – Photo Robert Golden
We have had an interesting journey with our Erasmus partners, Bournemouth University. Having run a two week residency there in the summer of 2016, BU has been funding a research assistant, Dinu Munteanu, to look at the Impact of our work with young people and the arts through TCFT, in particular. This is an on going process which is beginning to spread across faculties and we hope will deliver, at least, an academic paper as well as a part funded Phd scholarship.
TCFT was part of the Global Engagement Festival of Learning at Bournemouth University in July 2017.
BU is also taking part in creative R and D with Nigel Osborne's new opera, Naciketa, libretto by Ariel Dorfman. Two BU artists are researching ideas for animation and projection and an electronic soundscape. Nigel has become a BU visiting professor and in September will meet with Opera Circus and other prospective major partners in the region.
There are SALTO and European Youth Foundation conferences being applied to, exploratory work around the Commons and P2P, exploring different thinking and language through the work we do, new board members and new funders.
Amy Wisenfeld and Rory Newbery, students at Manchester and Leeds University respectively, submitted the application to have TCFT awarded the EU Charlemagne Youth Prize and came first out of all the applications from the UK.
Francesco Pipparelli from Sarteano, represented TCFT at Achen to collect the award.
Young people who have grown into leadership positions and become role models are running smaller models of TCFT exploring Arts and Friendship, Mental Health and Food Security with Local Food and Farming.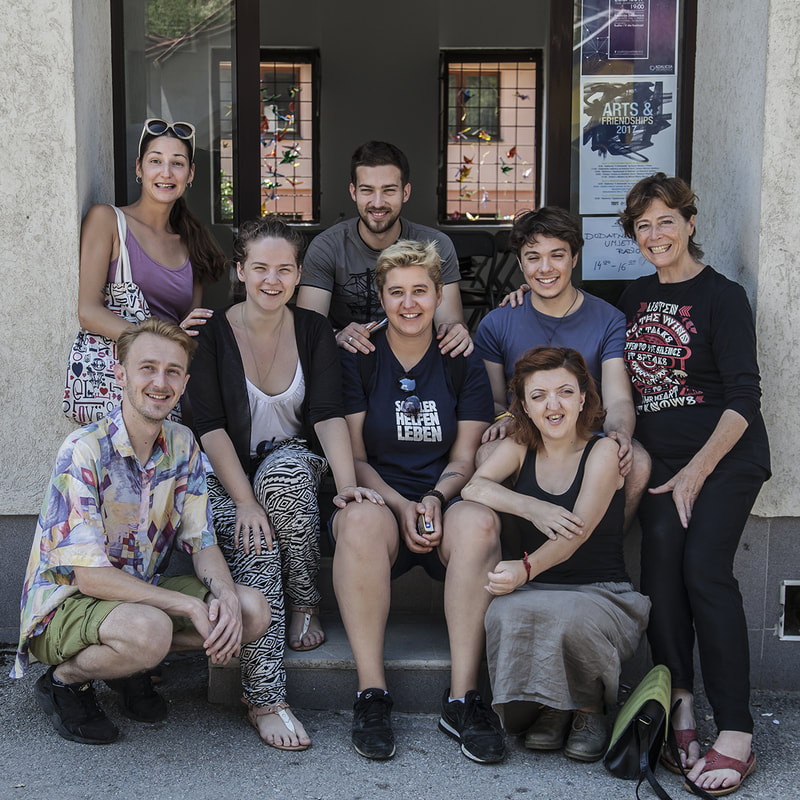 Arts and Friendship Project, out of TCFT, Srebrenica Bosnia July 2017 Serbia, BiH, Romania, Italy and UK – Photo Robert Golden
We are developing a number of small scale and Forum theatre projects. One of these that grew out of parental concerns in Bridport, will look at texting/sexting and the bullying that comes from this. An Awards for All grant has been successfully applied for to support this work. We are meeting with Sir John Colfox School's teachers and students to talk with them about how this might be a way to open this difficult discussion with parents, the school and the community.
ACE has just awarded us a small grant for some R and D around the art that has evolved from TCFT and to find a way through performance to explore with participants and a wider audience the emotional and secure cultural space that this long term programme of work engenders.
"TCFT is a process for understanding each other, differences and everything that has connected and divided us.
For me when I see it in the future, it is a good system, system where we all could live by, it's like we have a great structure for this system. It's like the village in Spain (Mondragon – https://www.theguardian.com/world/2013/mar/07/mondragon-spains-giant-cooperative). I always see this is possible in TCFT." – Sandra Duric, Philosophy student, BiH.
I would personally like to thank everyone who has contributed to all that has been achieved. Without an ensemble/ partnership/ collaborative team very little of this would have succeeded in the way it has. People's patience, kindness, talent, wisdom, energy and commitment has ensured we have created work that goes beyond expectations and evolved into more than a network, more of a creative and equal community of people working towards something kinder, something deeper and something that acknowledges the vital importance and value of every single one of us through our creativity, our art and our multifarious cultures. The Learning has been profound and life changing.
Now for more art.
Thank you.
Tina Ellen Lee