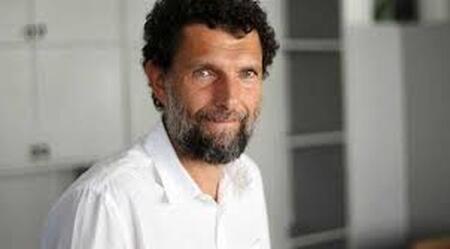 Osman Kavala, Turkey's best-known supporter of culture, philanthropy, human rights champion and bridge-builder, is approaching 1000 days in Turkey's highest security prison on trumped-up charges.
To keep him company in solitary confinement, he adopted two snails he found in his lunchtime prison salad.
The snails are now free. Osman is still not.
His friends in the Arts around the world have taken this story to create a new mini-opera paying tribute to his courage and celebrating his extraordinary support for culture and democracy.
The unique video opera, Osman Bey and the Snails, is released today. It is a gift by artists to a political prisoner who promoted culture to bridge divides between Turkey and other nations. It is an appeal to #FreeOsmanKavala
The making of the opera in the midst of a global pandemic is a story in itself.
It was produced by UK-based Opera Circus and its community of artists in four countries. When the prison guard opens the door of Osman's cell and floods it with light, Andy is opening his kitchen door in Sydney, Australia, into Darren's kitchen 12,000 miles away in Brighton, England.
The contemporary classical work was composed by Nigel Osborne (The Electrification of the Soviet Union, the Birth of the Beatles Symphony), who seeks to evoke the different musical cultures —Armenian, Greek, Kurdish – Osman worked with "and most of all of Sevda, the Balkan music of love."
"The true story of Osman and his snail-friends is like a fairy story, but it presents all of the truths about the loneliness of imprisonment in isolation and about Osman's compassion and love of nature and beauty," Osborne said.
Osman Kavala was taken into custody at Istanbul Ataturk Airport on October 18, 2017. He was locked up in the Silivri high-security jail outside Istanbul on fantastical charges — that he organised the 2013 demonstrations to protect Istanbul's symbolic Gezi Park from redevelopment so as to stage a "coup" against Turkey's government.
In February, after the European Court of Human Rights ruled the charges against Osman baseless, a court in Istanbul acquitted him and ordered his immediate release.
In jail in solitary confinement, Osman had enjoyed the company of the two snails served in his salad. After the judges ordered his release, he took the two "humble gastropods" with him. But later that day, Osman was cruelly re-arrested on even more hallucinatory charges. He gave the snails to his lawyer for safekeeping. They were freed and he was not.
This is an extraordinary moment in global politics. Across the world millions of people are now joining their voices and employing their creativity to oppose violence, injustice, and discrimination. Osman Kavala has fought for these issues throughout his whole career and went to jail for them.
We pay tribute to him and his humanity today (JUNE 23) as he spends his 966th day in detention.
To see the mini-opera:-
You can see the Vimeo English version here
The Vimeo Turkish version here
The Youtube English version here
The Youtube Turkish version here
To learn more about the work of Osman Kavala visit https://www.osmankavala.org/en
NY Times profile: link
#FreeOsmanKavala