Most of us have been in self-imposed isolation for 30 days. On April 18 2020 Osman Kavala will have been in enforced isolation for 900 days in an Istanbul jail cell.
Nine hundred days away from every friend, family member and colleague, without seeing even a tree or the horizon. During this time, we have not stopped thinking about our friend, Osman Kavala.
Today we announce the upcoming world premiere of a small opera film made over seven days by artists in lockdown, entitled Osman Bey and the Snails.
This modern fable is the story of a beloved Turkish philanthropist and activist cruelly jailed– and of the two little animal friends who shared his cell. Osman Kavala has fought for human rights in Turkey for 30 years. He has used art and culture to build bridges with Kurds, Armenians and Greeks, to make Turkey a fairer and more humane place.
Osman has always loved animals. In his youth he stopped his family firm from building of a hotel on a beach used by loggerhead turtles to lay their eggs.
In 2017, Osman Kavala was sent to jail by a court on politically motivated fantastical charges. He became one of the country's best-known political prisoners, kept in severe conditions of isolation. So, the animal-loving prisoner was delighted one day when he found two snails in his lunch-time salad. The pair became his companions in isolation.
In February this year, in a move that surprised and delighted everyone in equal measure, Osman was acquitted by a court which ordered him to be released forthwith. The prisoner's first concern was not to abandon his new friends, so he gave the two snails to his lawyer for safekeeping. But that same day he was cruelly re-arrested—on different charges.
The snails are now free, Osman is not.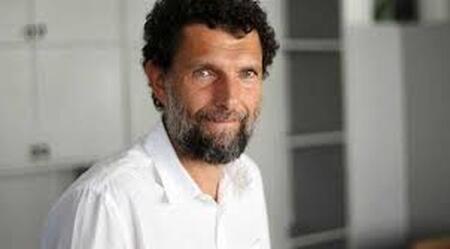 In this era of coronavirus, Turkey's ordinary criminals have been released; political prisoners have not. Osman's conditions are now even more severe. Family visits have been stopped and he can only speak to his wife and mother for 20 minutes a week on the phone.
Osman enhanced the world of culture by harnessing its power to heal wounds and make peace. Now it is the turn of the world of culture to support him.
The music is contemporary classical but reflects the various cultures that Osman has honoured in his life's work.
The opera-film Osman Bey and the Snails is written, directed and performed by a team of international artists isolated around the world, all proud to call themselves 'Friends of Osman'. We look forward to sharing it very shortly.
We will not rest until Osman is free, with his loved ones, and among us, where he belongs.
"Friends of Osman"
Darren Abrahams
Anthony Barnett, Co-Founder, openDemocracy
Nadine Benjamin
Robert Golden
Anthony Ingle
Tina Ellen Lee, Artistic Director, Opera Circus
Lore Lixenberg
Mikael Hegelund Martinsen Beats Across Borders
Andy Morton
Paula McFetridge, Artistic Director, Kabosh Theatre
Nigel Osborne, Emeritus Professor and composer
Robert Rice
Clare Shine, Vice President and Chief Program Officer, Salzburg Global Seminar