This is the second year of our work on the Erasmus + partnership project Get Close to Opera, run by the highly efficient Matera Hub in the region of Basilicata Italy. Excellent partners in European Network of Migrant Women, ESART, RESEO, University of Patras, Compagnie Teatrale L'Albero and us, where we have met in Brussels, Patras, Greece and Matera, Italy.
We have explored for nearly two years the enigma that is informal arts education and its use as probably the most important tool we have to develop communication between humanity and our widely differing cultures.
GCTO is a research project, an experiment and a way of exploring informal arts education, in all its variety, including using Howard Gardener's Multiple Intelligence Theory. A fascinating look at how each human being has multiple ways of learning; also see Sir Ken Robinson. If we recognise and respond in
more sensitive ways to our different intelligences then education can be much richer and more satisfying, rather than the more formal and one size fits all approach that most learning systems still use. MIT has been around for several decades and there are now many other learning theories and tools to resource but it has been an thought-provoking exploration.
The project aims to start a community of people that rethink cultural buildings including opera houses as spaces of social innovation, inclusion, cultural exchange and learning, for everyone. At the heart of this exploration is how do we find a way to share our cultures with the new citizens that are arriving in our countries and not insist that they are only included in our own EU-based values.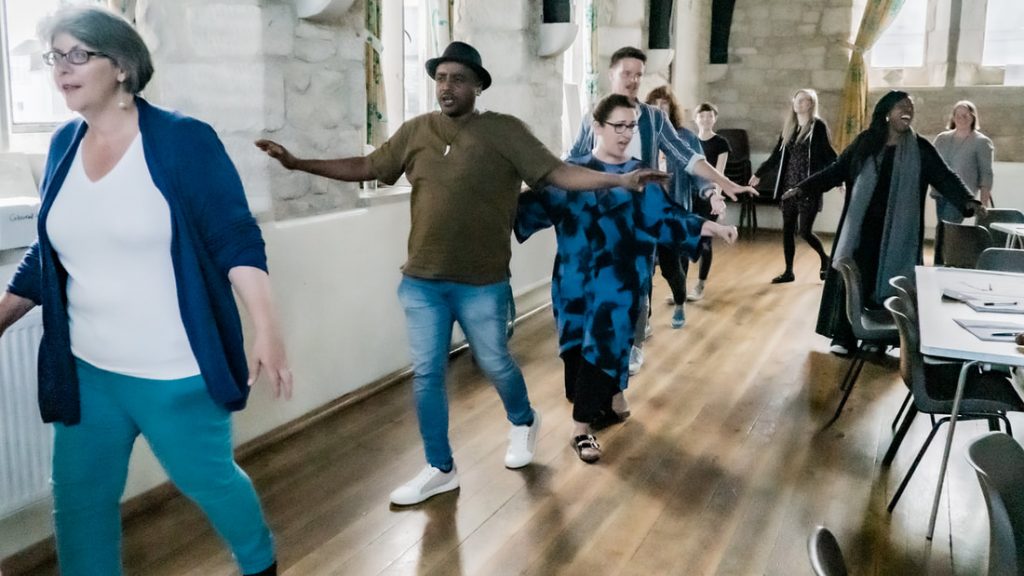 In February 2019 all the partners were invited to Matera in Basilicata, this year's City of Culture in Italy. A place of struggle and beauty, a profound poetic atmosphere and unique architecture both man made and natural.
It is one of the cities of the world in which human kind has lived longest.
The week was part of a training and exploration of a whole variety of subjects around the original ideas of inclusion and full details can be found on the web site.
Opera Circus were delighted to travel with 3 artists, Ruth Mariner, opera, theatre director and librettist, Nadine Benjamin, opera singer, producer and mentor and Katherine Harri, opera singer, musician and arts/choral facilitator with children and the elderly. We were joined by the profoundly actor and director Mattew Gurney , and the theatre director and British Sign Language expert Rachael Veasey who led various workshops whilst we were there and showed us practically what real access and inclusion means. We very rarely practice it, in any society.
Our next task was to put our learning into practice and devise a pilot project or workshop.
Matera, Basilicata, Italy
After much discussion we decided to explore what we called, A Conversation on Portland in Dorset. A 2 day exploration of how to start an informal arts project, who with and how to make it as inclusive and democratic as possible. Where to start? Who is part of this conversation? How to use the arts in the community, who leads, who decides and what can we achieve in the long term. How can working through the arts make deep changes in our society possible?
We were welcomed to Portland by the arts and cultural organisation, b-side, who run an biennial arts festival on the island and Friends of b-side, volunteers and residents who support the work of the organisation.
Portland was chosen not just because of its poverty or natural history/landscape, but because b-side already extend the philosophy and practice of participation and co-creation into their work as an arts organisation and are truly embedded and committed to the island as well as b-side's openness to bringing people from the local community into the organisation. Invaluable contributions were given by Friends of b-side, volunteers on the island who help support the festival. We would like to thank Tanja, Gina, Charlie, Hazel, Sally and Molly for their involvement, support and welcome.
Portland has many challenges including over 40% of its children are below the poverty line. At the same time it is a place of wild beauty and legendary paths, a towering Victorian prison and soaring stones and sculptures.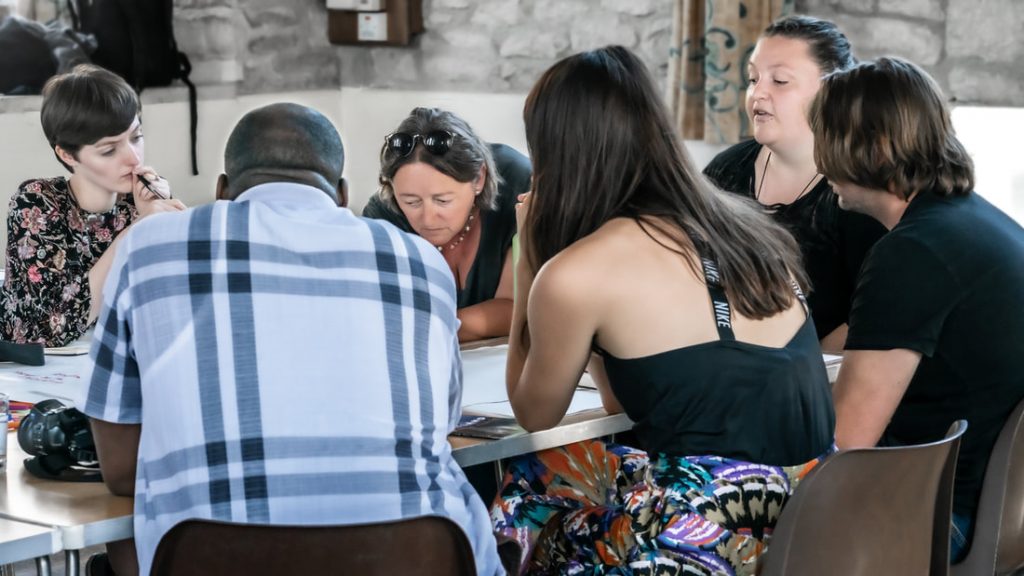 We invited a rich mixture of people and were delighted to welcome so many from Dorset Council, The Arts Development Company, the British Red Cross, The Shire Hall, Museum of Justice, The Centre for Seldom Heard Voices at Bournemouth University, Hearts and Dreams, an organisation working with young refugees and displaced people, Def-Explorer, Sir John Colfox School and St. Mary's Primary School, several artists, young producers and even an Erasmus intern from Nimes in France.
The work was underpinned by the participation of Opera Circus in the Structured Dialogue process as part of Voices of Culture in Brussels in 2018. Social inclusion in 2018 https://voicesofculture.eu/2019/05/16/social-inclusion-partnering-with-other-sectors-2/ and then reading the report of Dialogue on the Inclusion of Refugees and Migrants through Culture in 2015 https://voicesofculture.eu/2019/05/16/the-inclusion-of-refugees-migrants-through-culture-2/
We learnt a great deal from Foteini Galanopoulou about disability awareness, inclusive practices and creating barrier-free processes. An arts and cultural project manager, and access advisor, working in disability-led art companies and with independent disabled artists as a freelance producer. http://www.foteinig.net/about-2/
She delivered the session on accessibility during the training week in Matera, Italy (February 2019), but sadly couldn't be with us in Portland.
More information about the training week earlier this year can be found on the GCTO web site.
We will be writing a full report and sharing our conversations and views on co-creation and community involvement.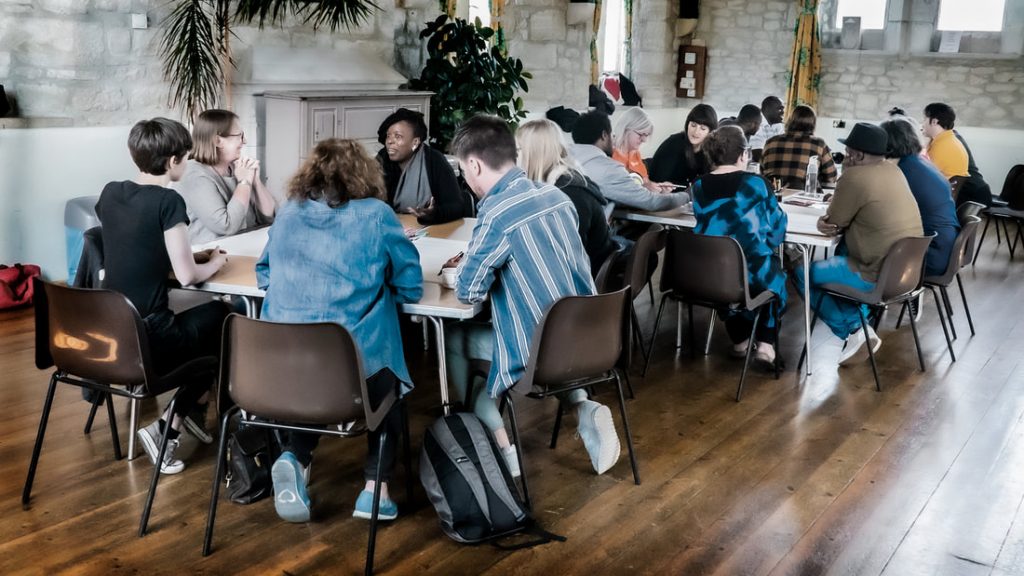 A brief summary of the two days conversation. Thank you to Molly Scarborough for the notes. We are working on a more detailed report to share with everyone.
Summary of 31st July (as told on 1st August)
Co-creation needs to be fully inclusive. It needs to include people in the conversation before the project is pitched / decided.
Conversations need to happen around barriers with participants before the project has started
Allow participants to have more control / power in the project
Go to where people are. Organisations should step outside of their comfort zone.
Sometimes projects come and go – this isn't helpful. Leaving doesn't help anybody. Projects need to be sustained and have sustained contact with participants / co-creators. Permanent residence.
Some identified issues / conversation points on the Island:
A lot of zero-hour contracts and seasonal jobs
Reliance on food banks in the area
Prisons
The education system isn't up to par
How can the arts be used to give people a voice or share stories?
Portland is often overshadowed by Weymouth
The new council might give Portland more of a say
The community needs to come together to document the social history
We need to collect and tell stories from now. Use story telling.
Create things people can relate and engage with
Open up conversations, always
We need to step outside of threatening buildings
The Spirit of Portland documents and tells the story of the old Portland (stone masonry & fishing) not the new and current
Weymouth & Portland should establish a stronger relationship as the borough is separated from the rest of Dorset. Funding stops at the ridgeway. We're under the ridgeway.
Communities are able to create quality art (who says what is and isn't quality art?)
How much is created for community? How much is created for tourism? Creation vs consumption
"The lights in Weymouth are for tourists. Not for the local communities or their quality of life
Town Council Consultations don't work. The council doesn't seem to listen. What can we do instead?
Communities need to know their place better –
"Know about your place better then you can be filled with pride"
"The stories never stop coming and they never remain the same"
1st AUGUST
When do organisations need to step aside?
There needs to be opportunity for audience to reflect openly. Not answering prescribed questions.
Organisations need to allow more time to reflect and adapt. Evaluation of projects could lead to doing it differently – like collaborations. Organisations shouldn't step aside they should be persistent. Organisations should continue to utilise their contacts and resources but ensure they are working in a way that is helpful to participants / co-creators.
Organisations / artists need to mindful and not infiltrate a world that they shouldn't. Be mindful and aware of your own intentions.
Be willing to listen, learn and understand.
Up/increase-mentorship
How do organisations create sustained projects that do not overwork or exploit the participants?
How do arts organisations need to go outside their comfort zone / location to engage new people?
Do the non-involved want to be found?
Know boundaries
Don't group people together and label them as 'bame' etc… allow people to participate because of themselves, their interests, not their labels
Let individuals tell their own story
Allow individuals to have their own experience, recognise it and celebrate it
Creative thinking leads you to a new lifestyle. Once you've done it once, you know it is possible. You can do it again.
SUMMARY OF CONVERSATIONS
Challenges = poverty, accessibility (buses etc), education
Trust. Need to take time to understand a community. Work with them and build trust.
Using arts as a vehicle for communication.
Include people right from the beginning.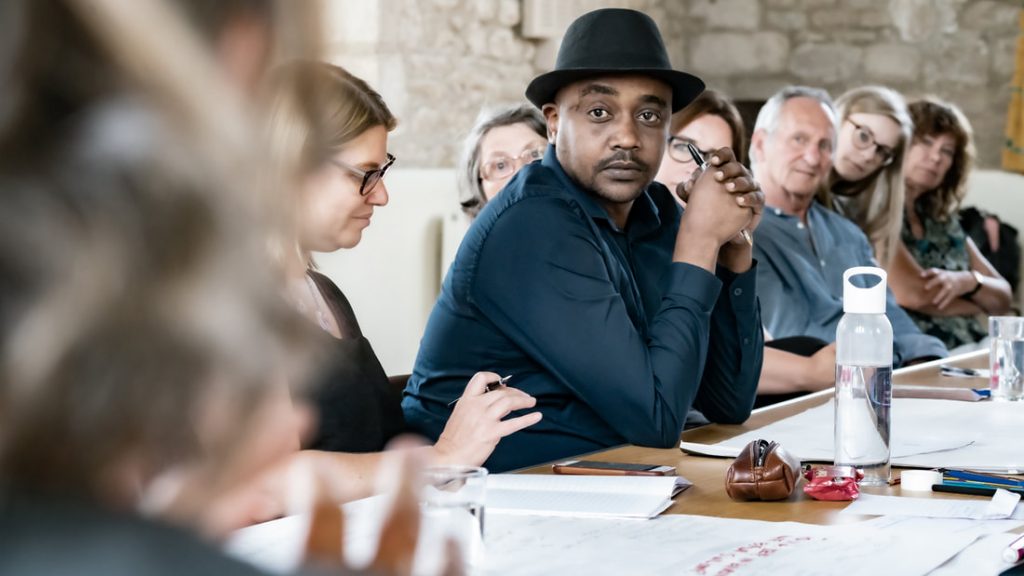 Thank you to St. George's Centre on Portland, b-side and Friends of b-side, Sally and Molly, Amanda and Makeda for the wonderful food, Gina for the beautiful photograph of Portland above and Robert Golden for showing/sharing our story in photographs to others and ourselves, Rosie Russell and Angelica and David Kennard for their generosity and care and providing beds and understanding, and to Nadine, Ruth, Katherine, Rachael and Cedoux for their great skill and artistry in supporting the work. To Abdulla, Tarig and Olajide for coming all the way from Plymouth and helping us understand, to Lee-Ann, Wendy and Stevie for their wisdom and to all those who shared films and songs. (The film links will be added to this blog shortly)
We will be meeting with all the GCTO partners in Bridport on the 4 and 5th September.
With thanks to Symondsbury Estate for their generosity in providing Allington House as our base.
We hope this is the start of something.
There are many ideas but step by step is the "dream path" we all need to follow and time is our biggest challenge.