We are working in a light white space in the Gymnasium (academic high school) of Sarajevo's School of Science and Technology and linked to their Film Academy. The weather has been stifling and airless. Yesterday the thunderstorm broke the atmosphere and today it's fresher, although still hot.
In the room there are 14 of us, mostly. 7 people making short documentaries, Robert Golden film maker and photographer sharing his learning and experience; Tina Ellen Lee, artistic director of Opera Circus and managing the project; Tiffany Fairey and Henry Redwood participating and researching the process with King's College University, London and the Changing the Story project.
Two of the young people are part of the digital and communications team, Rory Newbery and Francesco Pipparelli.
Two more, based in Bucharest, Irina Maria Ganescu, designer and photographer and Marko Stankovic, web designer.
Our project manager is Melisa H. Mehmedovic, with Lamia Sabic, film maker and mentor. Lamia is making a documentary with her own personal take on the working process.
The people making the documentaries range in age from 19 – 27 and come from a variety of backgrounds and educations…degrees in International Economics, one applying to study a degree in Philosophy, English and English Literature, others have completed degrees in Dramaturgy, Economics and Social Sciences, Film Studies, Politics, Arabic Studies and Communications, some with experiences and skills in theatre and other art forms.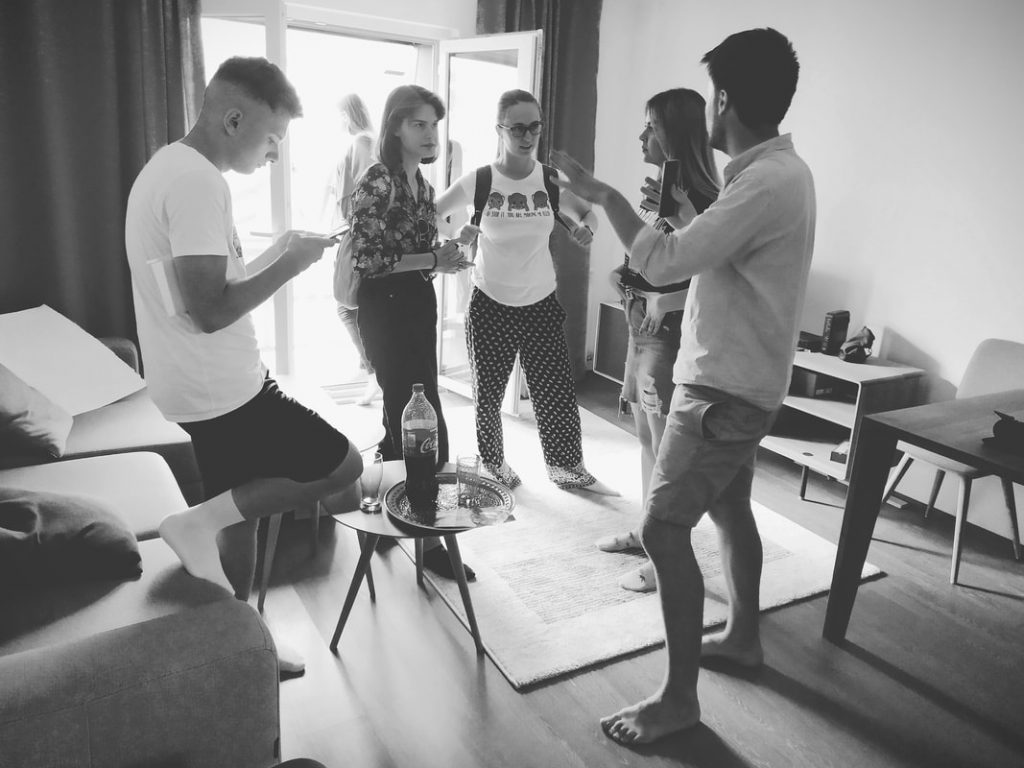 We are on the 4th day and Robert isn't teaching film technique as such, but using mind-mapping; why be a film-maker? The intersection between art and social commitment; why make a film; editing and eventually how to get people to see your film.
We have been lucky to have Bojan Mijatovic from the Film Academy talking about cameras and some basic rules of film making. Nikola Simic, an activist for the LGBTQ movement in BiH and later in the week Lejla Dedic, Senior Producer from Al Jazeera, BiH.
There's a new name for this work together, Izazov!. Now the project is owned more by equally by everyone in the room and not just a title quickly thought up for a grant application. In English this word means Dare, Challenge. Provocation or Provoke….the subtitle Change is a Creative Moment.
Now it feels a bit more real.
What's always exciting is to create a more open working space of trust, kindness and freedom and watching those creative moments emerge. Change begins to happen.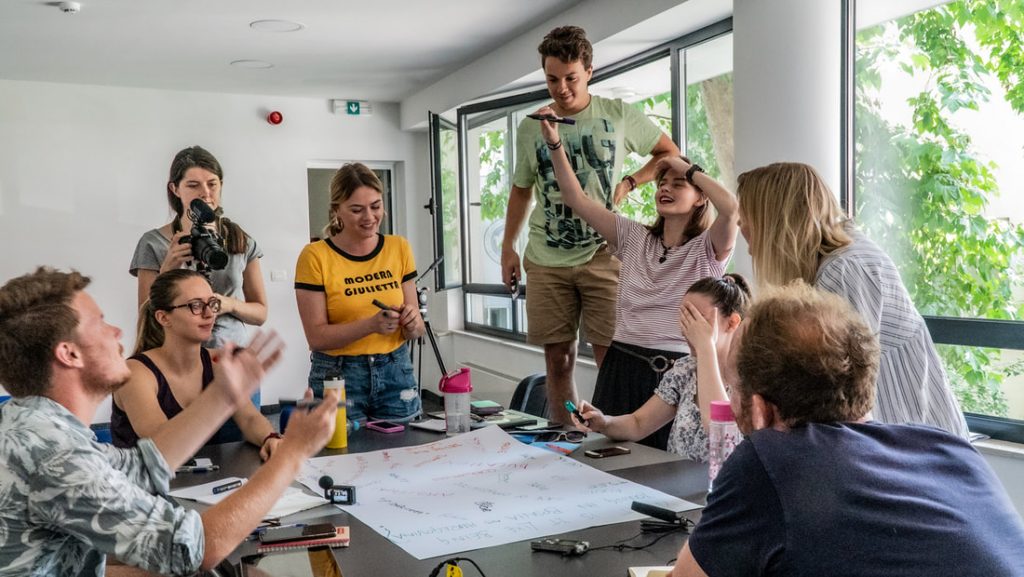 What's it like being a young person in Bosnia and Herzegovina in one word?
More information on Changing the Story can be found here. More information soon. Photos: Robert Golden
With thanks to partners Sarajevo School of Science and Technology and Film Academy, King's College, Leeds University, Arts and Humanities Research Council, Humanity in Action, Global Challenge Research Fund, The Complete Freedom of Truth through Opera Circus.
Nikola Simic talking about activism in the LGBTQ movement in BiH