In 2008 we were invited to the Srebrenica region in Bosnia and Herzegovina to work with young people passionate about theatre and music for children. It has been a complete privilege to have been allowed to be part of the progress of some of the young people in the region.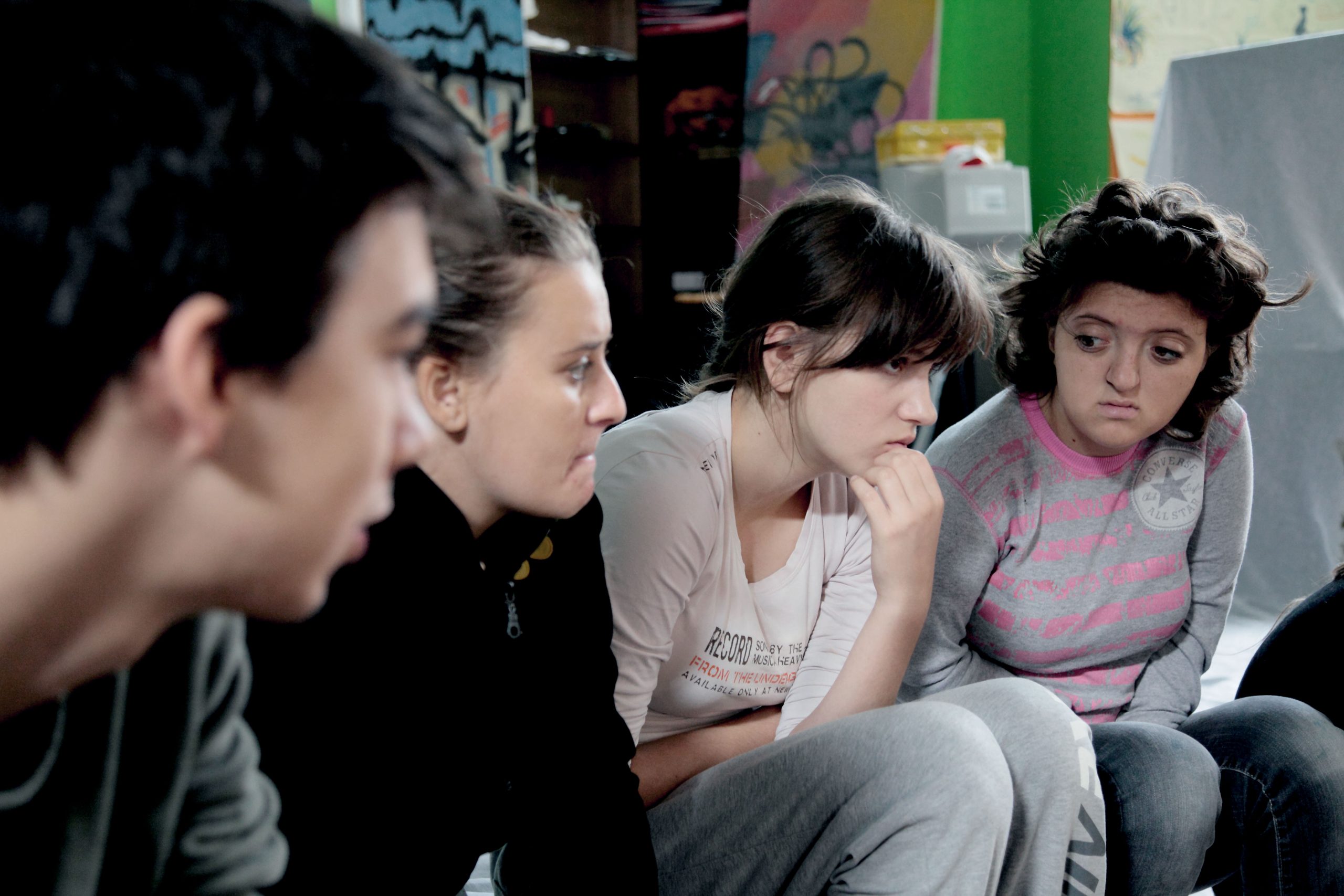 Filip, Jana, Verica and Maja part of the original group of young artists in Srebrenica who ran their own Children's Music Theatre. 
Photo Robert Golden
15 years later one of the gifts of this work is a young woman called Maja Djukanovic, one of the original young people, who is producing a theatre production for Bratunac Youth Theatre. Bratunac is a sister town to Srebrenica around 10 minus away by car. The children and artists involved come from both towns.
Maja is working closely with Joana Knezevic, a Serbian theatre director and actor who took part in the youth arts residency in Bratunac last summer 2023 which was a partnership between Centro Studi Sereno Regis and Opera Circus/TCFT with a number of other wider European and UK partners.
Having had many years of working from childhood with TCFT (The Complete Freedom of Truth) and other local and international NGO's Maja speaks of the importance for young people participating in theatre and the creative arts.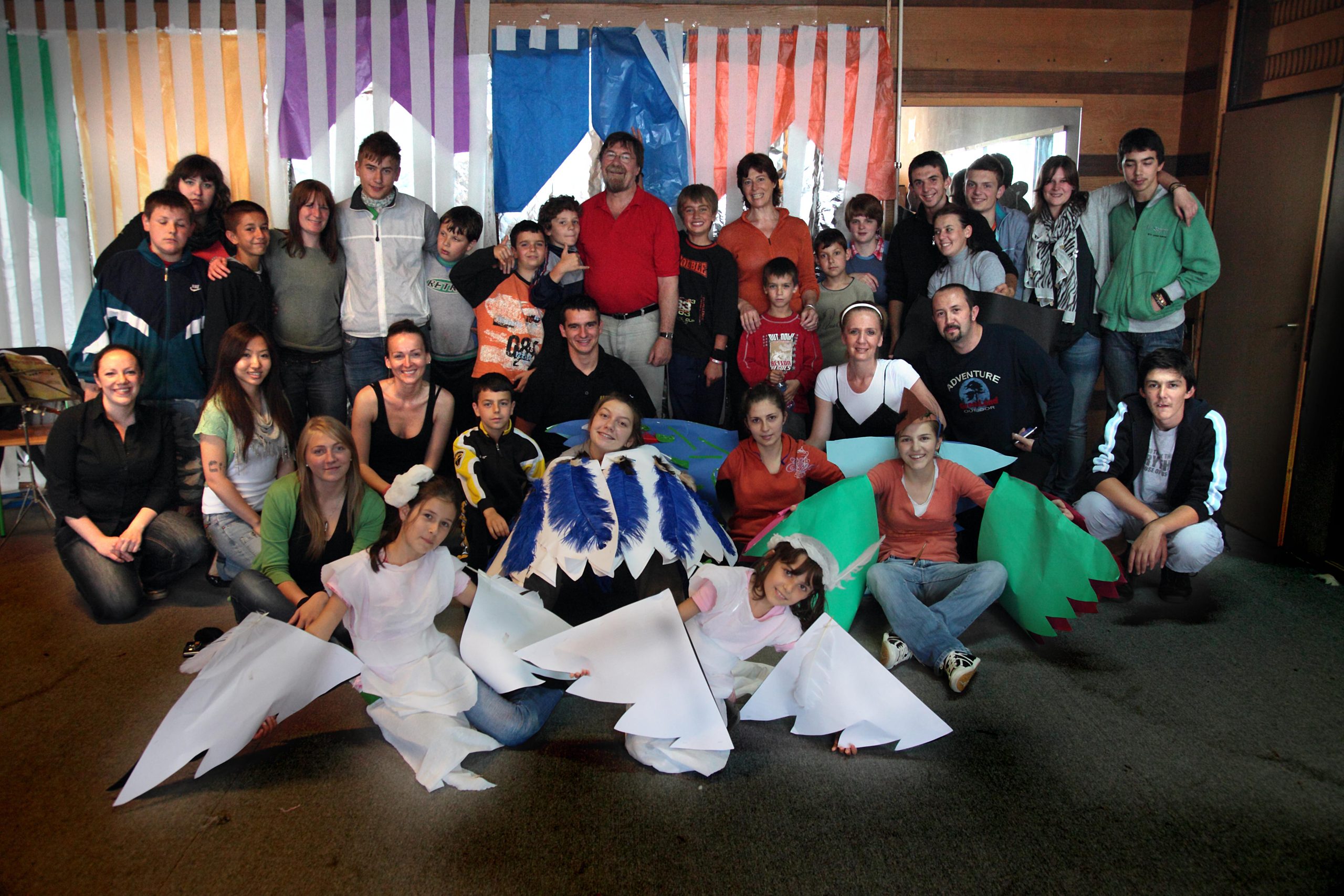 "I would like to add that it is crucial that we continue working with young people, providing them with new perspectives on thinking and reflecting on the society that surrounds us. The current idea being realized has been simmering within us for many years, but the likelihood of its realization increased from last year. Children, after last August's residency, began to believe that things can be different, that in their Cultural Center, they don't have to listen to gloomy stories, but rather, it can become their space, their free space. It's important for us to emphasize that the seed has been sown, and it will certainly grow, but we need the support of all the brave people who want to help and offer something new to young people in Bosnia and Herzegovina. In these workshops, we learn critical thinking, empathy, and most importantly, we engage in the prevention of peer, or any other form of violence. As Marijana, I would like to emphasize the importance of providing other young people with opportunities that I had while growing up in Bratunac and Srebrenica. Young people are leaving, abandoning their homes, which is why it's essential to offer them as many opportunities as possible for self-realization, education, and upbringing." Marijana Djukanovic, Youth and Social Worker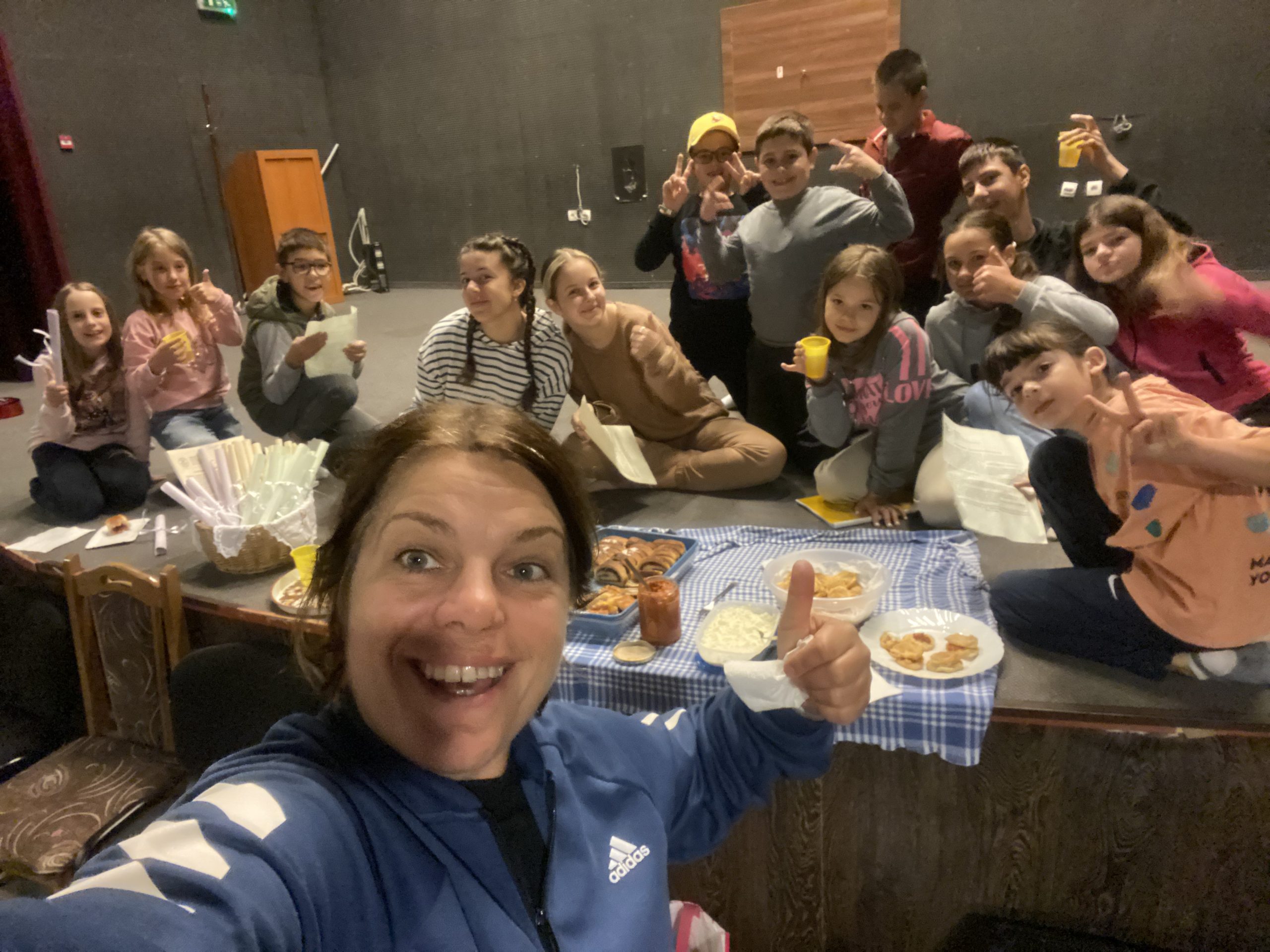 The Cultural Centre, Bratunac, workshop break with food and refreshments supplied by the women of Maja Kravica, NGO.
Here Joana describes the work they are doing with the children and young people from Bratunac, Srebrenica and other small towns and villages in the area.
"Pipi Dugočarapić (Longstocking) is a show that was discovered by the kids through the online workshops we held last year. We then spent five days where the kids were reading the plays and discussing different topics, researching, asking questions and trying to find answers for themselves.
It was not easy choosing the right topic but for sure two topics were on the top of their list. One is being different in the 21st century, being accepted for who you are, and not to be judged. The other is the relationship with authorities be they parents, teachers, government or their neighborhoods.
The kids, now actors, want to show that their voice matters in their towns and villages and they want to change the expectations of others.
We are who we are, dance with us, sing with us, eat with us, love with us but don't judge us!
The war in Bosnia was many years ago however it is not forgotten. It has affected many families and their grandparents from our cast and our team. But this is a new generation of kids who want to change their present and their future.
Through the art, through the rock and roll musical, they've decided to celebrate life!
These kids want to talk through their show about freedom. Freedom of speech and identity, freedom to study, to travel and to discover different cultures, races and narratives. They want to learn and after a while to spread their knowledge to the next generation in their towns.
Theater helps them to be together in their mission. To be unconditionally ready to look at each other in the eyes and tell the truth. The truth about who they are and what they want to be.
In the rock and roll musical Pipi Dugocarapic written by Milena Bogavac (a famous Serbian writer and activist) we see topics that were discussed above. At the first glance we see one "ideal" family, who's father is a big boss of the county. The mum who tries to keep everything under control especially her kids. The kids (Anica and Tomy) are dreaming about just being kids. Nothing more nothing less. All desires that they have are prohibited by their parents. Meeting the main character Pipi, they open the door of their dreams, passions, fears etc. Pipi is someone who doesn't have what Tomi and Anica have, but she has something that those kids are dreaming about, freedom. They need Pipi to show them, to teach them, and to discover new way of thinking for them.
Questioning the authorities is one thing that this play talks about. Are we obliged to listen? Who do we need to follow in order to be a good citizen ? Who is responsible for our future? How do we help these children and young people to flourish?" Joana Knezevic, Director
Conversations are being held with parents and teachers, with a wider group of children and young people, making plans to involve local children with disabilities or from minority groups. There are also many small villages where children live in poverty and have no access to projects such as this because the parents cannot afford the travel or food. We will be exploring how they can also be included by raising funding for them to participate.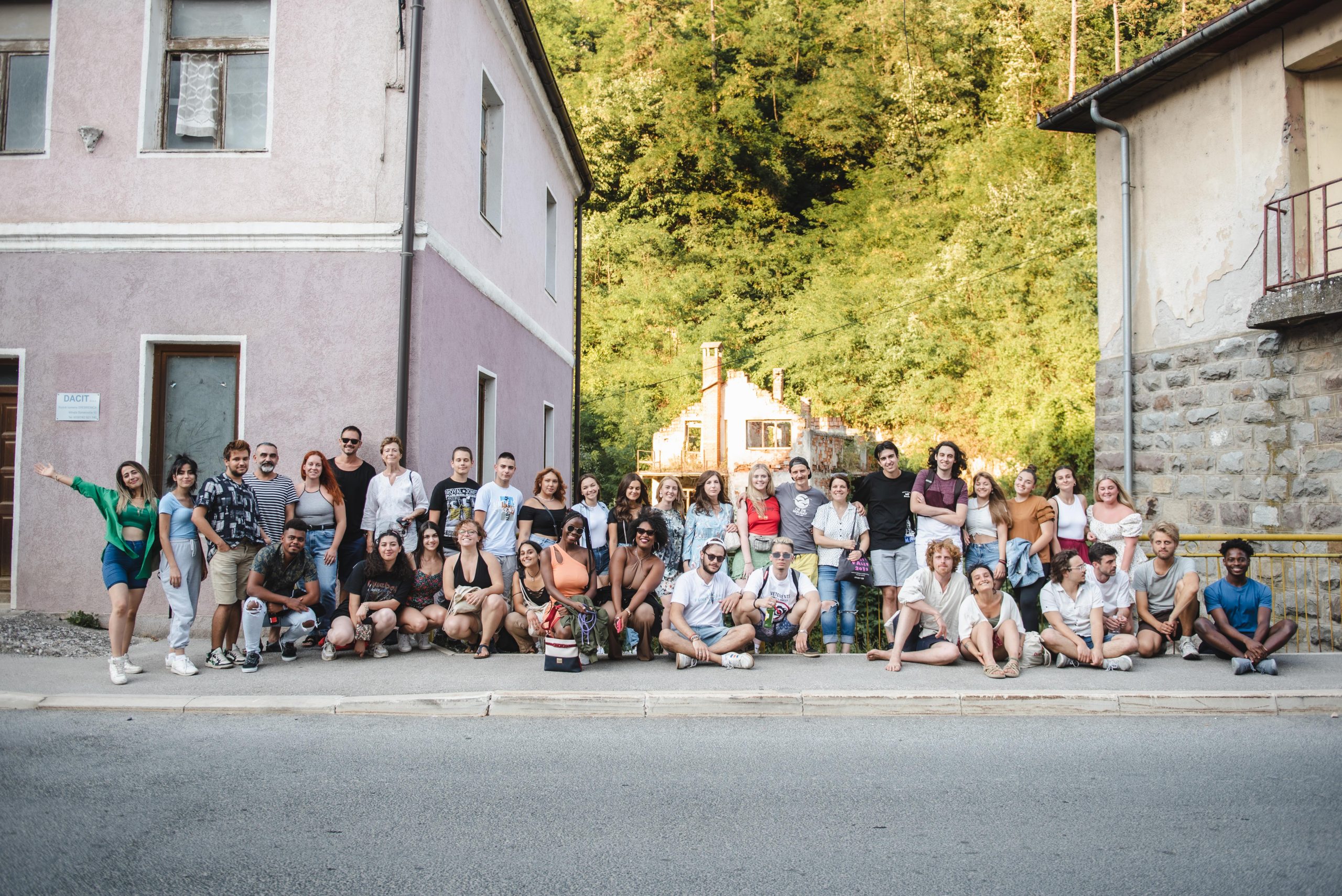 TCFT working in Srebrenica in partnership with Centro Studi Sereno Regis, Torino, Italy and other wider European partners in August 2022.
Photo Đorđe Nikolić
We will be crowdfunding and applying for grants for this work which will set up the Bratunac Youth Theatre Company with workshops, skills development and networks so they can share their work and have a long term independent future. We will be aiming to raise €10,000 all of which will be spent locally on fees for workshop facilitators, musicians, the production company team, access and inclusion costs, publicity, travel and food. Two local film makers will be developing a documentary about the work showing how it is led by the children and young people and how they and everyone involved begins to make change in their community and beyond.
The Company
Director Joana Knezevic
Producer Maja Djukanovic
Music Lead Zdravko Nikolic
Photography Djordje Nikolic
Film Mladen Kojic/Nenad Petrovic
Music Recording Miroslav Andric/Zdravko Nikolic
Pastoral Care Advice: Tina Dramac
Support:
Radovan Petkovic, Director, Dom Kulture, Bratunac
Nada Markovic Maja Kravica e-Srebrenica
Ranko Jakovljievic Association for the Promotion and Affirmation of Culture and Art
Tina Ellen Lee Opera Circus/TCFT