Reacting to the opera, Anuradha Rajivan from Chennai, India, made this painting of snails for Osman.
"It has been cloudy and raining with slugs and snails calmly sauntering around. That's when I saw Osman and the Snails you shared. And I made the painting inspired by it! – Acrylic on Canvas, 16X20 inches."
On June 23rd a press release was sent out into the World about a small "lockdown opera" called Osman Bey and the Snails. The music was composed by Nigel Osborne and the libretto by a variety of people who are called The Friends of Osman. The film was made by Robert Golden and the cast and further details can be found here.
Osman has so many friends, as has been seen by the global response to this beautiful small artistic expression in support of Osman's freedom from prison in Turkey.
With thanks to two extraordinarily generous PR companies, Bolton Quinn and Eskenzi PR, Osman's opera has been viewed by over 25,000 people on Vimeo (Turkish subtitles) and YouTube (English subtitles) and the numbers are growing daily.
The opera has been seen on 170 mixed press and media sites from Borneo to Argentina, South Africa to India including major articles in The Economist, The Financial Times, The Guardian and the Observer; interviews with Nigel Osborne and Tina Ellen Lee on BBC World Services programmes, The Cultural Frontline (about 9 mins in) and Newshour. The latter two programmes alone have an audience of over 17 million. Many have taken to Twitter from Amnesty, PEN, Human Rights Watch, openDemocracy, Bournemouth and Leeds Universities, Kings College London, amongst many others, both organisations and individuals.
"I thought the opera was totally brilliant! Reality and metaphor in a deftly crafted and beautifully understated musical theatre"
– Brian Walker
Former BBC Political Editor Northern Ireland, Editor of Political and Parliamentary Programmes at Westminster.Hon Senior Research Fellow The Constitution Unit University College London.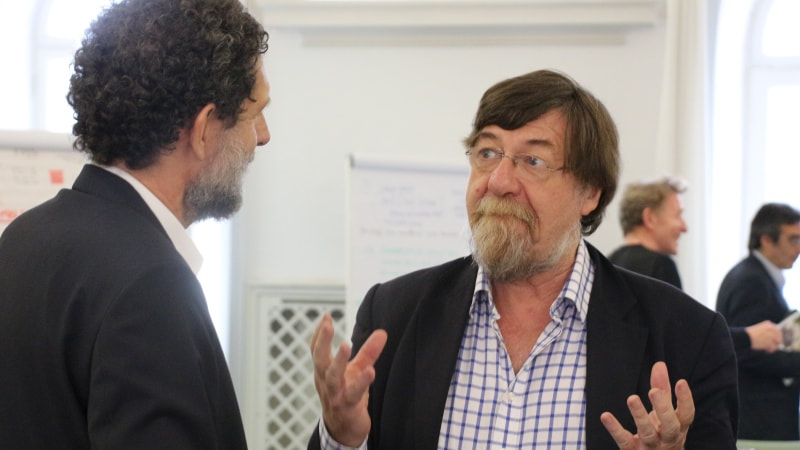 Osman Kavala and Nigel Osborne at the Salzburg Global Seminars – Photographer: Ela Grieshaber
We have received many thoughts and good wishes from supporters of Osman, those who have known him for years, and others who have discovered his plight through the opera.
"An impressive, collaborative piece of work, developed by artists in the spirit of solidarity and to raise awareness of political imprisonment in these fraught times." – Dr Jen Keating, English Department, University of Pittsburgh, USA.
"What a beautiful gesture! Composing that mini opera in homage to Osman is a heart breaking initiative. Thank you so much for letting us enjoy it." – Americo Castilla Director Fundacion TyPA Argentina.
"Osman Kavala, the human rights activist and philanthropist, and the snails he tended in a Turkish prison – he is still detained – are the subject of Osman Bey and the Snails, a lockdown world premiere, composed by Nigel Osborne and produced by Opera Circus, that stars, among others, Nadine Benjamin and Lore Lixenberg as the unexpectedly beguiling snails. Persuasive musically, and technically a coup, it's opera with a cause: the 10-minute work is being shared through Amnesty International, PEN and Open Democracy." – Fiona Maddox The Observer's Classical Music Critic. UK
"Our thoughts are with Osman and other political prisoners who suffer in solitary confinements for reasons known only to those who meet out such atrocities on their fellow humans. We know that the human spirit is more powerful than the greatest weapon any human can make. We have faith this spirit that holds unbelievable resilience will carry him through such hours of uncertainties." – George (614, George Abungu, Cultural Consultant, Kenya)
A beautiful short animation about Osman created by his artist's friends can be found here
We have a dream to perform the opera live for Osman on his release by the lake at the Schloss Leopoldskron, home of one of the Friends of Osman, Salzburg Global Seminars.
At the moment there is no campaign we can sign up to, but you can add a comment in support of Osman at the bottom of this web page.
Do please copy and paste the snail into the comment box with any thoughts you may have about or for Osman.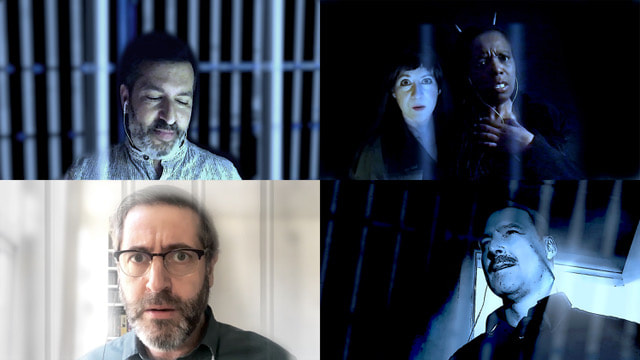 Osman – Darren Abrahams Lawyer – Robert Rice Snails – Nadine Benjamin and Lore Lixenberg Prison Guard – Andy Morton Pianist – Anthony Ingle Sound – Mikael Hegelund Martinsen Produced by Opera Circus